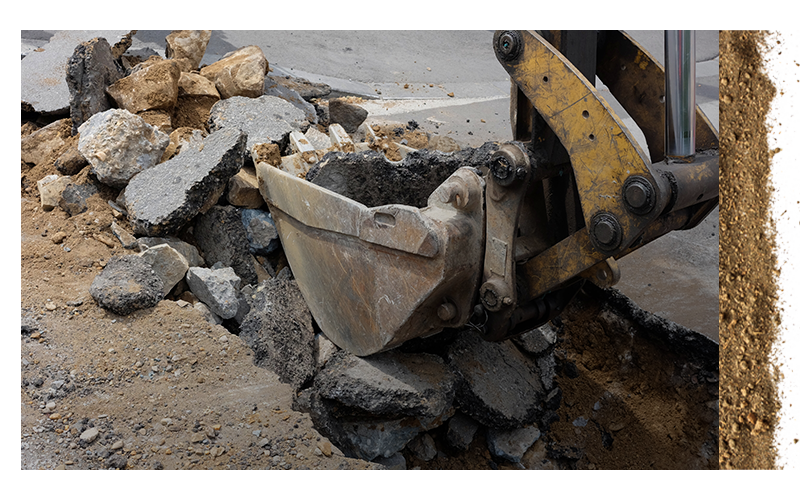 We're Here When You Need Us
MBS can help your business get to the next level. Let us trench your next utility installation and you'll see why. Whether it be a water service, sewer and storm drains, electric, gas, communications, pool, irrigation, etc... You'll see how productive and efficient you can be. We do the digging so you don't have to. You can stick to your skill set without worrying about going into the excavation business. We can help you, the contractor, balance out your ability to meet fluctuating equipment needs without having to carry extra machines on the balance sheet or extra people on the payroll. This in turn gives you flexibility to expand in your specialty. Why wouldn't you want to add another crew without the overhead? Why not make more money? Why not satisfy and keep more customers happy more often? Why not have an advantage over a competitor?
Mini Backhoe Services, doesn't just deliver mini excavation equipment. We deliver it with a trained operator and a midsized dump truck with various equipment and materials customized to fit your specific job needs.
Think of MBS as an extension of your business without the headaches of having a machine rental bill, a delivery charge, paying an operator including payroll fees and taxes, insurance on equipment and operator, scheduling and arranging equipment pick-up, etc. The list is much longer.
With MBS on your team, you don't have to worry: Is your operator skilled enough? Drug tested? Is he or she OSHA-certified? Can someone get seriously hurt on the job? Is a 1- day job going to turn into a 2-or 3-day job because of inexperienced operators?
We are experts in the excavation industry and we understand the challenges contractors face when it comes to excavation. That's why we are proud to team up and offer you Mini Backhoe Services as the best choice for your excavation needs. Our mini excavation equipment is designed to be safer and more efficient than traditional excavation machinery, making it the perfect choice for any job site. We deliver it with a trained operator and a midsized dump truck with various equipment and materials customized to fit your specific job needs. Our mini backhoes and excavators are equipped with the latest technology and are operated by experienced professionals, allowing us to complete excavation projects on time and meet tight project deadlines. Not to mention, our compact equipment has a smaller footprint than traditional excavation equipment, reducing the amount of damage to your job site and the surrounding environment. This also allows us to work in smaller, tighter spaces than most other excavation companies. At Mini Backhoe Services, we strive to provide cost-effective solutions to our clients, and our pricing is designed to fit within your budget. To top it off, our equipment can handle a wide range of excavation projects, making us the one-stop shop for all your excavation needs. Contact us today to learn more about how we can help you save time, money, and effort on your next utility installation project.
What our customers are saying about our excavation services

Great job!
Great crew, very professional, on time. They do great work.
- Darryl Delessio
Zoom Drain South Jersey

Highly Recommend
Jason and his crew are fantastic. Quick response, highly skilled excavators, and over all a great customer experience! Thank you again!
- Mathew Chandler
PlumbPro Services

True Professionals
These guys are true professionals. Came out quickly to quote, booked my job in a reasonable time, showed up on time and prepared on work day, and the work itself was flawless. The operator they sent that day was Brandon, and he was awesome - a professional guy, always looking out for customer interests, and his skills as an equipment operator showed. Highly recommended all around.
- Dennis
We look forward to serving you!
Give Mini Backhoe Services a call today for all of your excavating needs.