Trenching Services
Trenching is a critical construction process that involves digging trenches in the ground to install, maintain, or inspect underground utilities. This is our specialty and our most utilized service when it comes to working for our contractor clients. Jason, the present proprietor of MBS, established Zoom Drain & Sewer Cleaning Service in 1995, undertaking the excavation of thousands of sewer trenches over the course of twenty-five years. This extensive background forms the essence and serves as the bedrock of Mini Backhoe Services. Consequently, our clients and contractors find reassurance in this invaluable expertise, as they rightfully should. We trench electric lines, fiber optic, water, gas piping, storm and sewer pipe, building footers, curbs, sprinklers, and more. At Mini Backhoe Services, we offer reliable and professional trenching services to ensure that your project's underground infrastructure is installed, maintained, or inspected correctly. Our contractor reviews speak for themselves.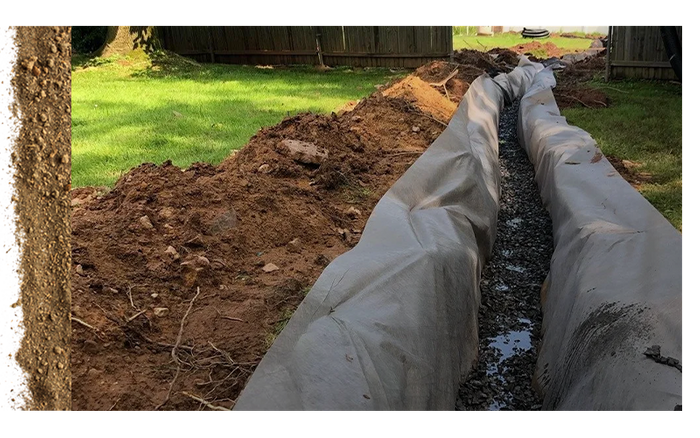 Why Trenching Matters
Trenching is essential for the success of any construction project that involves underground utilities. It allows for the installation, maintenance, or inspection of these utilities, which are necessary for the proper functioning of a building or outdoor space. Without trenching, these utilities would be inaccessible, making it difficult or impossible to repair or replace them in the future. Trenching is also critical for preventing safety hazards and avoiding damage to existing underground infrastructure.
Our Trenching Services
At Mini Backhoe Services, we offer a range of trenching services for your construction project in Pennsylvania. This includes:
Utility Installation
To ensure your utilities are installed with care and precision, our construction crew offers trenching services for the safe and efficient installation of various underground utilities, including electric, fiber optic, water, gas piping, and more.
Maintenance and Repair
Work site safety is important. With the help of our Pennsylvania general contractors, you can be confident that your underground utilities are free from hazards. Our experienced team is equipped to quickly identify and fix any issues, minimizing downtime and saving you money in the process.
Inspection
As part of our comprehensive trenching and construction services, we specialize in providing thorough trenching inspections. Whether it's for maintenance purposes or to troubleshoot a problem, our inspection services are designed to keep your underground utilities functioning optimally and efficiently.
Drainage Systems
Adequate drainage is crucial in preventing water damage and flooding, and we take great care to ensure that the systems we install are dependable and effective.
What our customers are saying about our excavation services

Great job!
Great crew, very professional, on time. They do great work.
- Darryl Delessio
Zoom Drain South Jersey

Highly Recommend
Jason and his crew are fantastic. Quick response, highly skilled excavators, and over all a great customer experience! Thank you again!
- Mathew Chandler
PlumbPro Services

True Professionals
These guys are true professionals. Came out quickly to quote, booked my job in a reasonable time, showed up on time and prepared on work day, and the work itself was flawless. The operator they sent that day was Brandon, and he was awesome - a professional guy, always looking out for customer interests, and his skills as an equipment operator showed. Highly recommended all around.
- Dennis
We look forward to serving you!
Give Mini Backhoe Services a call today for all of your excavating, site preparation, and operated machine rental needs.